We have a range of funfair favourites at the Carnival, where outlets are dishing up everything from candy floss and hotdogs to burgers and churros.
Clydebuilt restaurant menu is below. To book a table please click HERE.
Clydebuilt will open 15mins before the Admissions Hall, and close 1 hour before Carnival each day.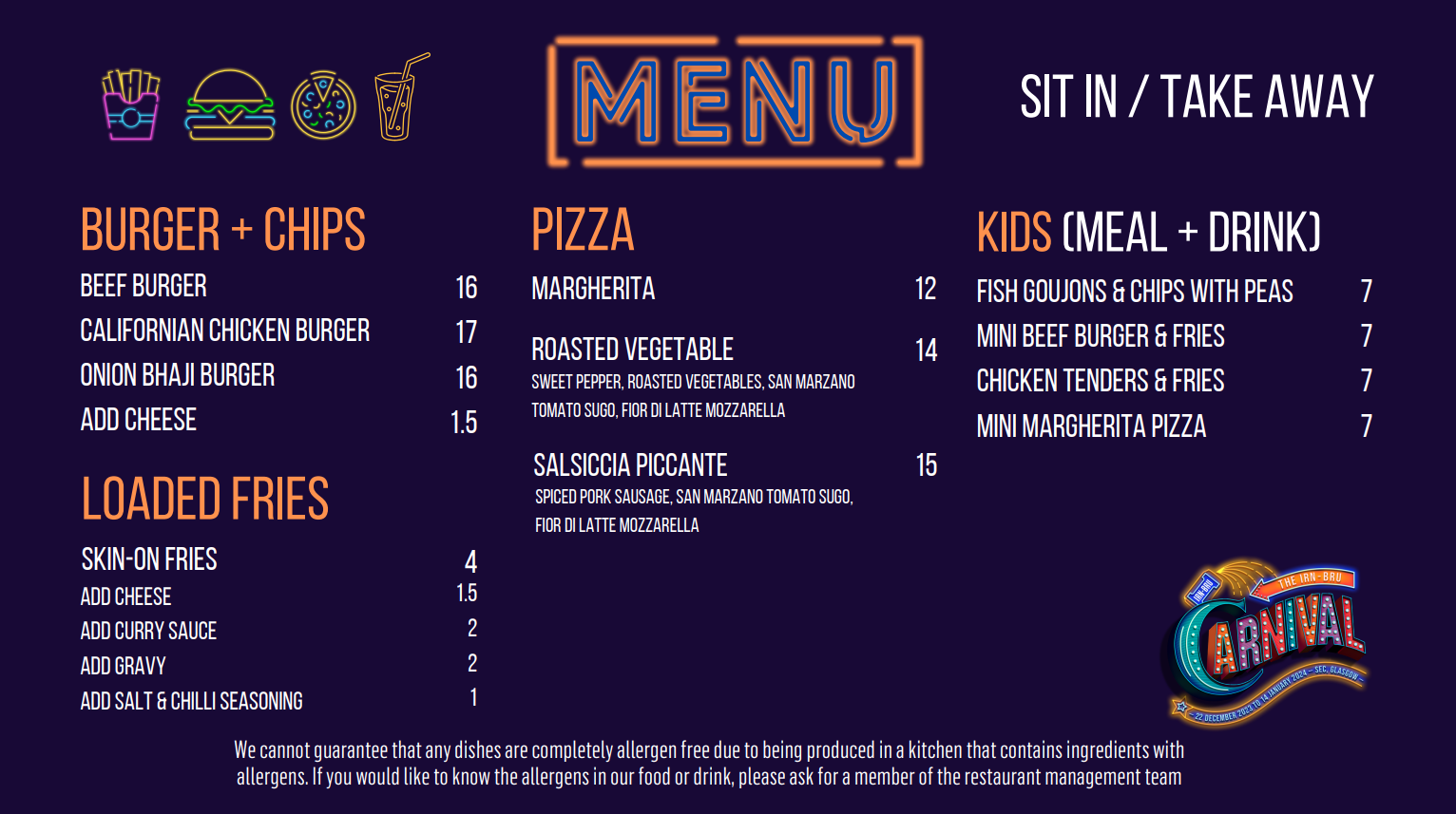 Menus for inside Carnival 2023/24 halls are below:
STONE BAKED PIZZA MENU
Stone baked pizza oven cooking fresh 9-10inch pizzas made to order using only the freshest ingredients served fresh from the oven.
Tomato & mozzarella
Tomato, mozzarella & spicy pepperoni slices
Tomato, mozzarella, red onion, green & red chilis
Tomato, mozarella, ham & pineapple chunks
Gluten free pizza is available on request
Drinks
Barrs soft drinks £2.50
Still & sparking water £2.50
Kids drinks £2.00
LOADED DAWGS & FRIES MENU
Mozzarella, chilli con cerne, jalapeno's & sour cream
Mozzarella, jalapenos, crispy onions & firecracker sauce
Mozzarella, tangy cheese sauce, bacon & crispy onions
Ketchup, mustard & crispy onions
Onions, vegan ketchup & mustard
Loaded Chilli Fries £7.50
Mozzarella, chilli con carne, jalapenos & sour cream
Loaded Cheese Fries £7.50
Mozzarella, tangy cheese sauce, bacon & crispy onions
Mozzarella, jalapenos, crispy onions & fire cracker sauce
Drinks
Soft drinks £2.50
Still water £2.50
SALT & CHILLI CHICKEN MENU
Crispy battered salt & chilli chicken wings with salt & chilli fries £10.50
Hot spicy chicken fillet coated in spicy batter, served on a brioche bun with fresh lettuce & siracha mayo. Served with salt & chilli fries £10.50
Salt & chilli chicken strips served with green & red peppers, fresh green & red chillies & onion. Served with rice or fries £10.50
Salt & chilli tender stem broccoli, peppers, onions & fresh chillis served with white rice or fries & a curry sauce (vegan suitable) £10.00
Side Orders
Fries £4.20
Chinese curry sauce £2.00
Chinese gravy £2.00
Grated mozzarella £2.50
Drinks
Barrs soft drinks £2.50
Still & sparkling water £2.50
LET'S EAT BURGER GRILL MENU
Beef burger served with lettuce, cheese & onion on a brioche bun £7.50
Meal Deal - add fries & a drink for £12.50
170g pork sausage served with caramelised onion on a brioche baguette £7.50
Meal Deal - add fries & a drink for £12.50
Chicken fillet cooked in a crispy batter served on a brioche bun with fresh lettuce & Hellman's mayo £7.50
Deal Deal - add fries & a drink £12.50
Vegan spicy bean burger served with lettuce & onions on a fresh wholemeal bun £7.50
Meal Deal - add fries and a drink for £12.50
German bockwurst sausage served with onion on a fresh brioche baguette with your choice of garnish (gluten free option available) £7.50
Meal Deal - add fries & a drink for £12.50
Side Orders
Freshly cooked chips £4.20 (Meal Deal, add a topping & a drink for £7.50)
Chinese Curry Sauce £2.00
Bisto Gravy £2.00
Grated mozzarella cheese £2.50
Barrs soft drinks £2.50
Strathmore 500ml still or sparkling water £2.50
Kid's Simply apple and orange drinks £2.00
Kids Meals
Kid's chicken nuggets served with chips and your choice of water or Barrs Simply orange or apple juice £7.50
Kid's hot dog served iwth chips and your choice of water or Barrs Simply organe or appple juice £7.50
IRN-BRU Meal Deal Family of Four Special - £32.50
2x Meals from the main menu served with chips and any soft or hot drink, and 2x Kid's meals served with kid's Barrs Simply apple or orange juice
COFFEE BAR & SPANISH CHURROS MENU
Shot of freshly ground coffee topped up with hot milk
Shot of freshly ground coffee topped up with hot frothy milk and a shake of chocolate on top
Double shot of freshly ground coffee
Cup of hot water topped up with a shot of freshly ground coffee
Shot of freshly ground coffee mixed with chocolate served with whipped cream and chocolate sprinkles
Cup of hot chocolate served with whipped cream and marshmallows on top
Cakes & Muffins/Iced Doughnuts from £2.50
A selection of fresh muffins and delights
Freshly made spanish churros covered in a cinnamon sugar - add melted Nutella chocolate sauce for £1.00
Sandwiches & Wraps from £4.50
Selection of freshly made sandwiches and wraps - vegetarian and vegan options
Tea £2.00
Earl grey and herbal selection available
Selection of cold drinks £2.50
Coke, Fanta, Sprite, Fresh Orange, Apple juice etc
Still and sparkling water £2.50
Selection of kid's drinks £2.00
COFFEE & HOT FRESH DOUGHNUTS MENU
Shot of freshly ground coffee topped up with organic hot milk
Shot of freshly ground fairtrade coffee topped up with hot frothy organic milk & a shake of chocolate on top
Double shot of freshly ground fairtrade coffee
Cup of hot water topped up with a shot of freshly ground fairtrade coffee
Shot of freshly ground fairtrade coffee mixed with fairtrade chocolate served with whipped cream and chocolate sprinkles
Cup of fairtrade hot chocolate served with whipped cream and marshamllows on top
Hot fresh doughnuts £5.00
Sugar coated freshly made hot doughnuts
Add Nutella - £1.00
Selection of muffins and cakes from £2.50
Tea £2.00
Fairtrade teas such as earl grey and herbal selection
Selection of Barrs cold drinks £2.50
Kid's drinks £2.00
Still & sparkling water £2.50